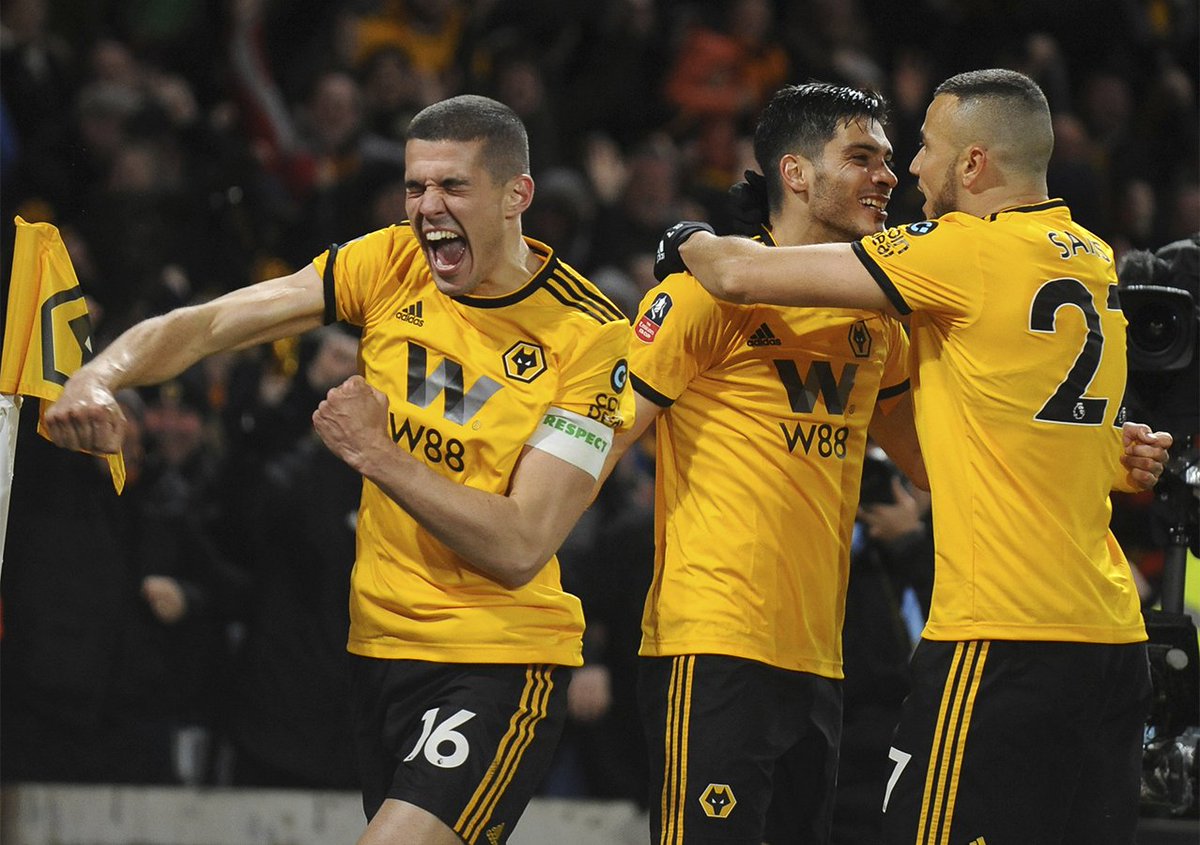 Raul Jimenez and Diogo Jota knocked 12-time winners Manchester United out of the FA Cup.
Manchester United's best chance of silverware didn't just slip through Ole Gunnar Solkjaer's fingers.
It was ripped from his grasp by a ravenous pack of Wolves, starved of FA Cup success since 1960.
This painful 90 minutes  looked as if it was one match too many for Solskjaer's side, who failed to show the desire and energy to bounce back from last week's defeat by Arsenal.
The heroes of Paris never laid a glove on a Wolves side who thoroughly merited their two-goal win and deserved trip to Wembley for their first FA Cup semi-final since 1998.
United simply lacked the appetite required for this one and had it not been for stand-in stopper Sergio Romero the defeat would have been even heavier.
Raul Jimenez and Diogo Jota scared the life out of United's ponderous back four and Solskjaer will shudder at the thought of what Lionel Messi and Luis Suarez might get up to against this lot.
However there were plenty of other causes for concern.
United lacke creativity in the middle of the park too and, until Marcus Rashford's last-gasp consolation, looked toothless up front.
Wolves had tweo midfield magicians in Ruben Neves and Joao Moutinho who pulled the strings and picked away at United's fabric – leaving them threadbare during a one-sided second half.
Moutinho burst beyond three United shirts causing panic in Reds ranks at Jimenez's opener.
But even then Victor Lindelof and Paul Pogba's attempts to rob the Mexican inside the penalty area, while he had his back to goal were powder-puff at best – feeble in truth.
Likewise Luke Shaw made a hash of things at Wolves second and decisive second goal.
The ever-eager Diogo Jota made the most of his mishap, racing clear before drilling the ball beyond Romero from the edge of the box.
It could have been even worse as VAR spared United being reduced to 10 men after Lindelof sent Jota sprawling.
The centre half was punished with a yellow card when it could easily have been red.
But even Marcus Rashford's stoppage time goal was little consolation to United, whose faces were as crimson as their famous shirts long before ref Martin Atkinson ended their misery.
Ole was at the wheel as United crashed out of the Cup – Barcelona lie in wait and he will hope this concentrates the focus for the crunch ties which are on the horizon.
Pep Guardiola's City men had diced with disaster, giving Swansea a two-goal start before finally scraping through to the semi-finals.
Solskjaer must feel City used up Manchester's entire supply of luck in playing such a massive Get out of Jail card.