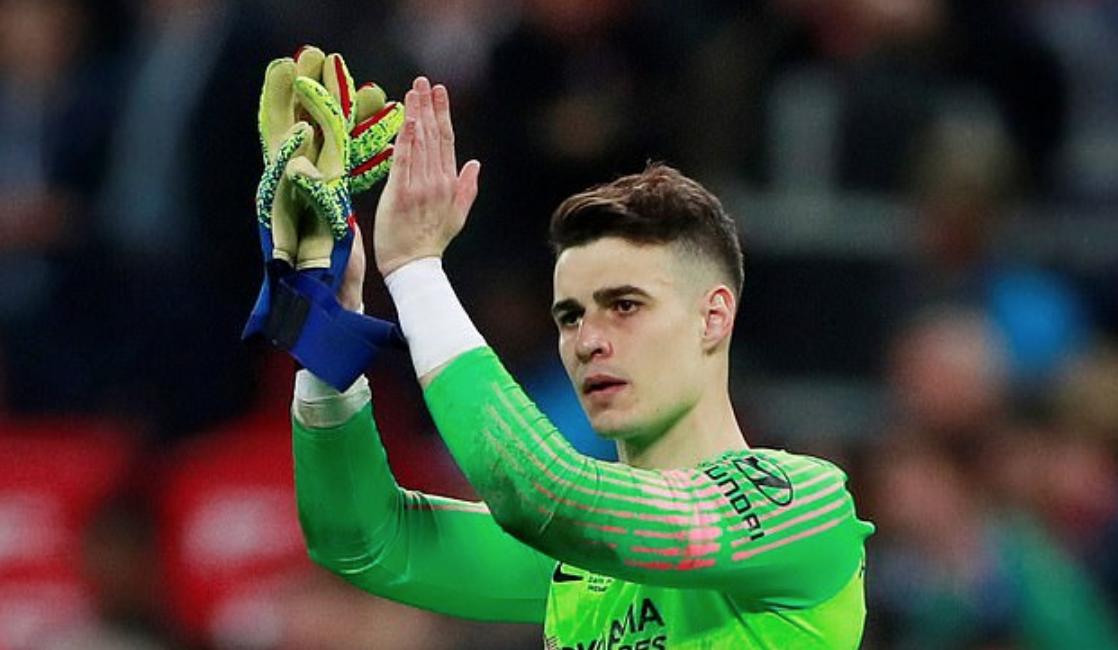 Maurizio Sarri was humiliated in front of millions of football fans when rebel Chelsea Kepa astonishingly refused to be substituted.
The Spanish keeper will now be hauled in for a dressing down over the wildcat action which overshadowed Sarri's first final as a manager.
Kepa later apologised for his open defiance at Wembley but will still face the wrath of his boss – and was accused of lacking respect by former Chelsea captain John Terry.
Kepa stubbornly stood his ground when Sarri tried to replace him with understudy Willy Caballero fearing his £71m keeper had cramp seconds before the game went to penalties.
The club's record signing then winked to the cameras before going on to save a spot kick from Leroy Sane although Chelsea eventually lost 4-3 on penalties.
Sarri said: "I was really angry.
"I understood he had cramp, so I didn't want the goalkeeper to go to the penalties in that physical condition. I realise the situation after three or four minutes when the doctor arrived on the bench.
"I wanted Caballero on the pitch, but the goalkeeper wanted to let me know he was in condition to go to the penalties. It was only a big misunderstanding.
"Kepa was right, but in the wrong way. Wrong in the way he conducted himself, but mentally he was right because he was able to go to the penalties. But I realised everything only when the doctor arrived on the bench. Not before.
"I want to talk with him because he needs to understand that, for a misunderstanding, we can go in trouble. So I think I have only to explain exactly the situation to Kepa. Without any other problem.
"Kepa only said: 'No, no, I'm very well and able to continue.' He understood I wanted to change for an injury. He was only telling me his word, saying he was really very well. So I think that, in 120 minutes, a discussion can happen with the players.
"I think we have to concentrate on football. Of course I will speak to him. As I said before, he was right for his motivation. But not for the conduct."
Kepa has since backed up his under-pressure boss and claims the whole incident which unfolded in front of 83,000 spectators and millions more on Telly was a misunderstanding.
But it was enough to send Sarri storming down the Wembley tunnel and ripping open his tracksuit top in an act of fury – as well as slamming down his water bottle in the dugout.
Former Blues defender Terry said: "Once your number goes up you have to come off and show a bit of respect."
Kepa admits he saw the fourth official raise his lightboard with his number on to come off. He is set to keep his place for Wednesday's Premier League clash with Tottenham.
He said: "In no moment was it my intention to disobey, or anything like that with the boss. Just that it was misunderstood, because I had been attended to by the medics twice, and he thought that I wasn't in condition to continue. It was two or three minutes of confusion until the medics got to the bench, and they explained everything well.
"He thought I couldn't continue, and – fundamentally – I was trying to say that physically I was fine.
"If you see it from outside, I don't know how it went out, it is not the best image. I have spoken with the boss. I understand that on television, on social media, they're talking about this but I am here to explain it, to say that it wasn't my intention to go against the manager. We have spoken now, and I was only trying to say I'm fine. It was in tense moments, with a lot happening."
Sarri is expected to keep his job despite the defeat because of the nature of the performance which was much improved on recent matches. Club owner Roman Abramovich was not at Wembley.
But Sarri insists: "I am in control, fully in control of the situation. Our way of football today was a little bit different from other matches.
"We decided not to press very high in every situation in which the opposing goalkeeper was involved, because they are very able to use the goalkeeper and come out of our pressing. So we decided, in every goal-kick or pass back, to wait 20 metres lower. We did. And we conceded nothing to the best team in Europe."