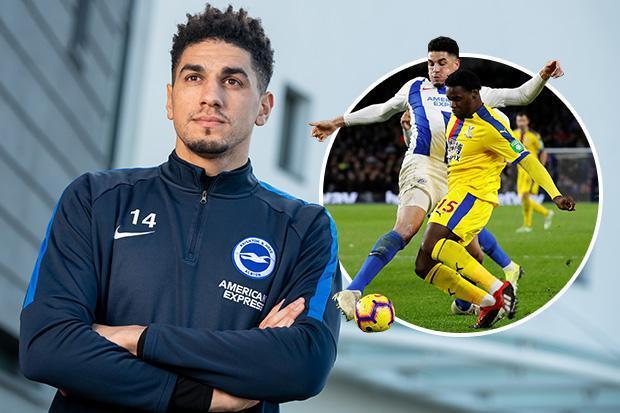 Nigeria international Leon Balogun reveals how life in Germany turned sour with racist abuse – before he landed his dream move to the Premier League with Brighton over the summer.
The Brighton defender, 30, made childhood wishes come true by playing in the World Cup for Nigeria and then following idol Thierry Henry into the Premier League.
But earlier in 2018 the kind of bigotry he sometimes experienced while growing up in Germany reared its ugly head when he was playing for Mainz.
Balogun, son of a Nigerian father and German mother, said: "It was at Hannover, my first club as a professional.
"During the second half, we warmed up just in front of their ultras stand. I was there with team-mate Anthony Ujah, who is also Nigerian and has really dark skin.
"They started to do monkey noises. I'm a person that likes to speak up and I was like, 'Yo, shut it — you only feel strong now because you are behind there and surrounded by people'.
"I was just angry. Our fitness coach was standing next to us and saying, 'Leon, what's up? Calm down, calm down! Don't give them your attention'.
"There were children surrounded by six to 12 people who did those chants, 'Oo, oo, oo'. I was like, 'In Germany? Seriously?'. They had black players in their team.
"My friend Ujah was attacked, I stood up for him then they went for me as well.
"Some little boy allegedly said, 'F***ing n****r monkey', or something like that.
The Hannover fans went at me on social media. They thought I was stupid enough to believe those chants were for their Togo striker called Bebou.
"Whenever he touches the ball, because they love him, the whole stadium was 'Bou-bou-bou' or 'Bebou, Bebou'.
"They thought I was mistaken about it."
But Balogun knew racism when he saw and heard it after some incidents while he was growing up in Berlin.
One instance which still stands out for him is the treatment he received from an opposition striker in an under-16s match.
Balogun said: "At half-time we were walking towards the dressing room, I was about ten yards away and he tried to hit me with the ball.
"He insulted me all through the game, using those typical swear words. The N-word? Exactly."
It is disturbing to hear Balogun talk so matter-of-factly about such appalling behaviour and how it continues to be an issue in 2018.
For the incident last January, the German FA fined Hannover £17,500 and the club banned those involved for life.
Chelsea have suspended four supporters while they and police investigate claims Raheem Sterling was racially abused during Manchester City's defeat at Stamford Bridge last weekend.
Balogun says strong action is important, but defeating racism requires ongoing commitment and education.
He said: "Respect to Raheem Sterling for his reaction. It's not easy, especially in England when the fans are so close. He just laughed at them and walked away.
"Also for his statement in the media. No one is born racist. If you are a kid, you don't see in colours. It's taught. Sometimes maybe it is subtle, but it's there.
"The first thing we have to do is acknowledge racism is still alive and still a problem in society. You have to support players like Sterling who speak up.
"You have to show action like Chelsea did and like when my former team-mate and I had that incident.
"We always just carry on or look away or just say, 'OK, it happened'.
"Everybody is outraged and it stops again. We have to keep chasing it. That's how you can improve something, but it takes time. You have to go for it hard."
After his depressing start to the year, Balogun is ending 2018 on a high with the Seagulls. 
He scored with his first touch after coming on in the M23 derby against Crystal Palace.
The suspension of Shane Duffy for his red card in that match will give the Nigeria international another chance to shine today against Chelsea.