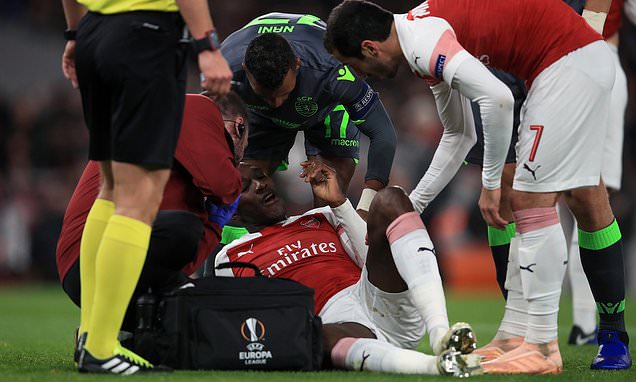 Arsenal have revealed Danny Welbeck has undergone a successful operation on his right ankle following his horror injury he suffered against Sporting Lisbon.
The Gunners have not revealed when the England international will be back to action as he recuperates from a serious broken ankle.
Welbeck picked up the problem during the 0-0 draw against the Portuguese side in the Europa League last week.
A statement on the Arsenal website said: "Further to sustaining an injury last Thursday against Sporting CP, Danny has undergone a second planned operation on his right ankle.
"Both procedures went well, without complications. Danny will now recuperate and start his rehabilitation. It's too early to say how long this will take.
"Everyone at the club will now be providing Danny with the best possible treatment and support in order to make him fit again as soon as possible."
It has been feared that the 27-year-old – whose contract expires at the end of the season – could be ruled out for the remainder of the campaign.
The ex-Manchester United ace was reportedly being chased by Crystal Palace who were weighing up a £10million bid in January.
Welbeck had been in good form for Arsenal this term – banging in five goals in 14 games despite playing second fiddle to Pierre-Emerick Aubameyang and Alexandre Lacazette.
Bernd Leno has revealed that Welbeck had delivered the North London side a pep talk from his hospital bed ahead of the 1-1 draw with Wolves on the weekend.