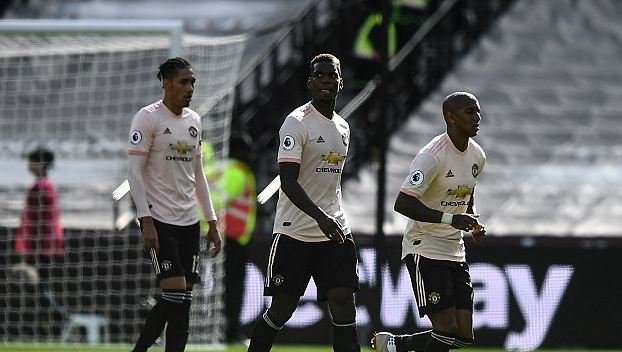 José Mourinho criticised the mentality and spirit of his Manchester United players, while also hitting out at the match officials after witnessing a dismal 3-1 defeat at West Ham.
The manager, already under pressure after last Saturday's home draw with Wolves and the Carabao Cup exit against Derby, chose to talk up the personality of Scott McTominay, the 21-year-old defensive midfielder that he drafted in on the right of a back three. Mourinho being Mourinho, it was clear that what he left unsaid about the other, more senior players was damning. "I can have complaints with quality and mental approach," he said. "You have to try always and that is my nature as a football professional."
At the end of a difficult week when Mourinho stripped Paul Pogba of the club's vice-captaincy and clashed with him during training, he substituted the midfielder on 70 minutes. Pogba had been poor.
Mourinho left his press conference after only three questions – to which he gave extensive answers – and before he could be asked about Pogba.
Mourinho dropped the out-of-form Alexis Sánchez because, he said, he wanted to get Anthony Martial in the team. He explained that he switched to a 3-5-2 formation, with Martial as the second striker, partly because he did not trust the Frenchman to defend diligently. "I want to play Martial – something that you are asking for a long, long time – and I left Alexis out," Mourinho said.
"Martial is not a player very, very focused on his defensive duties. To play him as a second striker and trying just to cover the area of [Declan] Rice would be much easier for him.
"At the same time, I feel that we need quality on the ball building up from the back and Scott McTominay has that quality. Everything that left his foot was correct – a part of a special character; a special personality that the team in a negative moments needs. A team in a negative moment needs the kind of mentality Scott McTominay has."
Mourinho was asked whether enough of his other players had that mentality. "Not all of them," he replied. "But every player is a different person. Scott McTominay is a kid with a special character."
Mourinho was more forthcoming on the subject of the officials. He felt that Pablo Zabaleta was offside before he crossed for Felipe Anderson to open the scoring and he highlighted a foul by Zabaleta on the substitute Marcus Rashford that was not given in the buildup to Marko Arnautovic's third goal.
"The first was an offside goal," Mourinho said. "And the third was a referee mistake [by Michael Oliver], although we were not very good in the transition.
"We are not a team that is very good when we lose possession and the other team counterattacks. Zabaleta doesn't see the ball [on the third]. Zabaleta only goes for Marcus Rashford, pulls [him]. Mr Oliver decides in the other way."