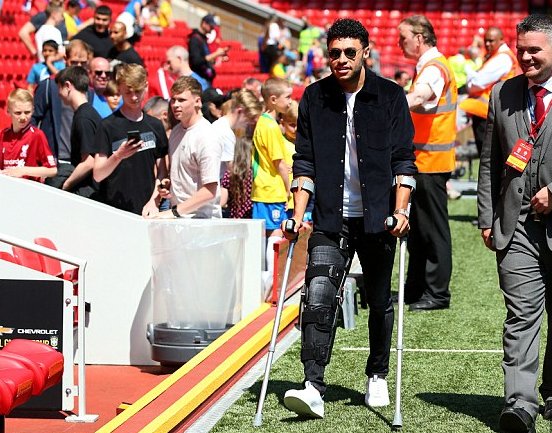 Alex Oxlade-Chamberlain is set to miss the whole of the new season after the full extent of his horrific knee injury was revealed on Wednesday.
The Liverpool midfielder, 24, suffered multiple ligament damage during the first leg of the Champions League semi-final against Roma in April.
Every major ligament in his right knee was damaged, including the cruciate, medial and lateral collateral ligaments.
The England international — who at that part of the season had become an integral member of Jurgen Klopp's team — also damaged a tendon which leads to the hamstring, resulting in further complications.
Crucially, there was no impact to his cartilage nor were any of his bones broken. He was operated on eight days after the incident by the renowned knee surgeon Dr Andy Williams and initially there were reports that Oxlade-Chamberlain could be available in November.
Privately, however, Oxlade-Chamberlain was told shortly after the procedure that if he wanted to make a full recovery, he would face a spell of 12 months on the sidelines.
He kept the diagnosis to himself as he did not want anything to distract from Liverpool's push to win the Champions League. The early stages of rehabilitation have gone smoothly and the operation was a complete success.
Oxlade-Chamberlain, though, knew that Liverpool's return to training would see Klopp being asked about his fitness and his manager has now chosen to deliver the grim reality.
Klopp said: 'It feels like now is an appropriate time to tell people that for Ox this coming season will be about focusing on recovery and rehab.
'We have known this from pretty much the day after he got the injury and after the successful surgery, we were sure of it.
'I hope everyone treats this information responsibly. There has been no change, no setback — it's exactly on the schedule we expected and planned for. The new information is that we're now giving more detail publicly.
'It is typical of Ox that he didn't want the news to overshadow the end of the season and, to be quite honest, we thought we could wait and tell people at an appropriate time. His surgery — which he had on the day of our second leg in Rome — has been successful.
'His recovery has started superbly well. But the truth of the matter is that we are preparing this season knowing he will not be with us for competitive matches for the majority of it. If we do see him back this season it will be a bonus.'
Klopp may have gone to great length to explain that his recovery programme is just as it should be but there is no escaping the fact that it is an enormous blow for Oxlade-Chamberlain, his manager and Liverpool's team.
Oxlade-Chamberlain has suffered major injuries before in his career. He hopes there will be a chance to play football at some point next spring, but Klopp has made it clear there is no pressure on him to try to shave time off his recovery.
Klopp said: 'It is so important — because of how valuable and important he is to what we are looking to do here in the coming seasons — that the focus is on doing this right and not being rushed. Ox is completely on board with this approach.'
He added to Liverpool's website: 'Ox is such an outstandingly good person and someone who even when not playing is integral to the heartbeat of Melwood.
'I cannot wait to have him back with us for matches.
'But we will wait for him and we will show the patience that is required to make sure he comes back ready to continue where he left off: as one of the most outstanding performers in European football in that moment.'