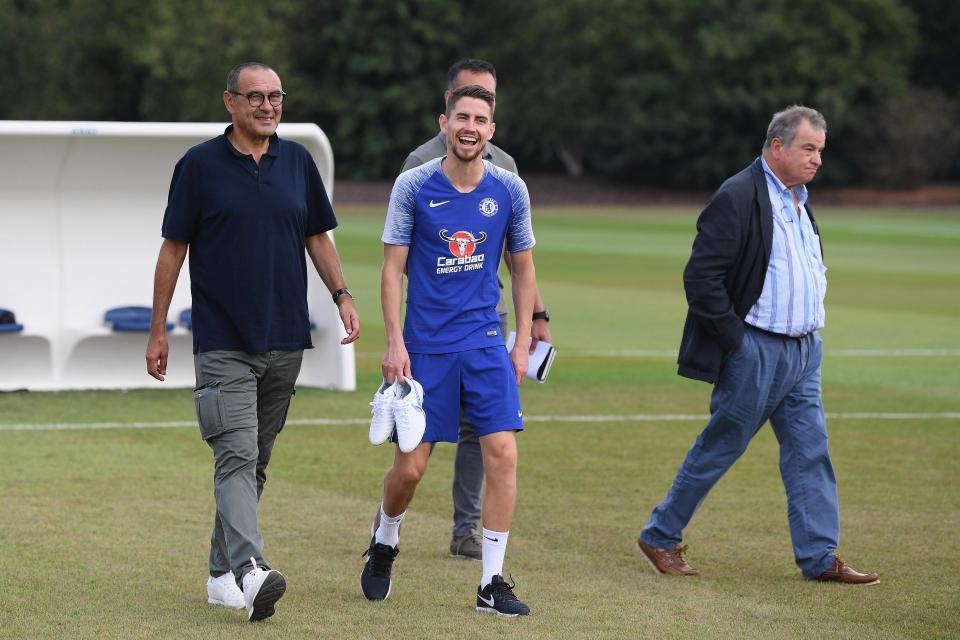 New Chelsea manager Maurizio Sarri has been given a tour of the Cobham training ground by his assistant Carlo Cudicini, who worked under Antonio Conte. 
Sarri was confirmed as the new Chelsea boss earlier on Saturday, and was later joined by his former Napoli player Jorginho, who completed a £57million move to Stamford Bridge.
After arriving together from Italy, they wasted no time in getting to grips with their new surroundings. The pair were taken on a tour around the grounds by Cudicini with their preparations for the new season set to begin.
Sarri and Jorginho had a lot to take in as they walked around the huge Cobham training complex and were guided by Cudicini, who will act as the link between regimes having been appointed by Conte in 2016.
The pair were shown the training pitches and Jorginho put on his training gear to take part in some fitness work with pre-season training already underway.
Cudicini also led Sarri around further facilities, including the video analysis suite, his office and the Chelsea players' gym.
Sarri looked impressed with the resources at his disposal and will want to get to work immediately after the delay in appointing him.
Conte had remained manager long beyond what was expected, with the Italian sacked only on Friday – a week into pre-season training.
There is likely to be a long legal battle regarding Conte's compensation, which totals £9million for him and his staff after they were sacked just 28 days before the new season.
Speaking about his new job, Sarri said: 'I am very happy to be coming to Chelsea and the Premier League. It is an exciting new period in my career.
'I look forward to starting work and meeting the players on Monday ahead of travelling to Australia, where I will be able to get to know the squad and begin our match action.
'I hope we can provide some entertaining football for our fans, and that we will be competing for trophies at the end of the season, which is what this club deserves.'
Sarri is expected to appoint former Chelsea player Gianfranco Zola as part of his coaching staff.