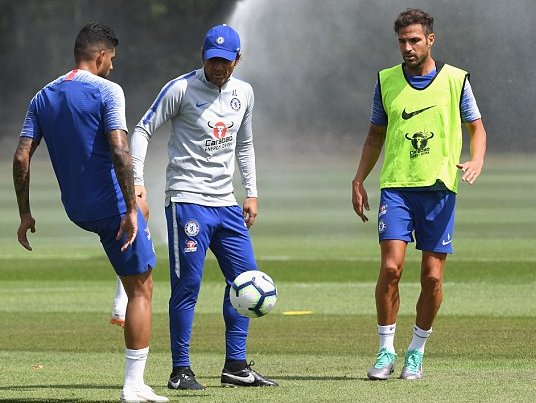 Chelsea midfielder Cesc Fabregas apologised after committing a social media blunder in the aftermath of manager Antonio Conte's exit from Stamford Bridge.
The FA Cup holders are expected to announce the departure of Conte imminently after finally reaching a £9million agreement to terminate his contract on Thursday.
Former Napoli boss Maurizio Sarri will replace his fellow Italian, with Blues legend Gianfranco Zola returning to west London as an assistant coach and midfielder Jorginho also set to sign.
Fabregas caused controversy and invited criticism online as the latest news regarding Conte circulated when he liked a tweet celebrating the development.
'Yessssssssss Conte gonnnnnnnnnnnnnnnnnnn,' read the excitable post.
After noticing Fabregas' surprising like, the same user added: 'O my God. Fabregassssssssssssssssssssss like my tweet. Now everyone definitely gonna understand! It's big relief for Chelsea team!!!!!'.
However, the Spaniard moved quickly to set the record straight, replying to the initial message: 'Pressed by mistake. Sorry.'
That apology now appears to have been deleted.
He then followed it up by thanking Conte for putting faith in him after originally being left out in the cold.
Fabregas wrote: 'Thank you Mister for another Premier League title and FA Cup. It wasn't easy for me to convince you in the beginning but in the end I hope I did you proud! Good luck for the future. #CFC.'
Fabregas mainly came off the bench for Chelsea as Conte claimed the Premier League title during his first season at the helm in 2016-17, but he enjoyed a more prominent role last term, starting 25 times in total in the top-flight.
Despite that, the 31-year-old — along with club team-mates Alvaro Morata, Pedro and Marcos Alonso — was omitted from the Spain squad for the World Cup and instead travelled to Russia as a BBC pundit.
While analysing Kevin De Bruyne's performances for Belgium, Fabregas claimed that he himself had been 'a bit more restricted' by a more disciplined role at Chelsea over the last two years.