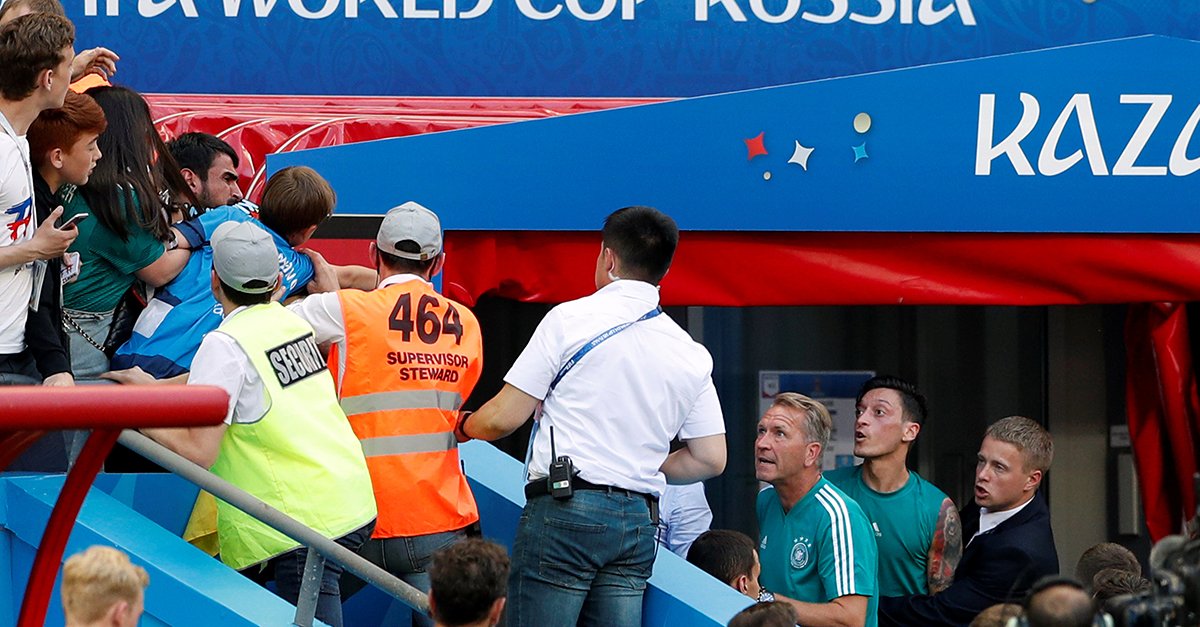 Mesut Ozil clashed with furious Germany fans as he walked off the pitch after being dumped out of the World Cup following his team's defeat by South Korea.
A group of supporters, positioned near the tunnel, directed their rage in the midfielder's direction and he reacted in kind.
One of the Germany staff then pulled Ozil away to avoid the ugly scenes deteriorating further.
The Arsenal playmaker was clearly hugely disappointed with the 2-0 defeat by South Korea that left Joachim Low's side rock bottom of Group F and eliminated from the competition they arrived at as defending champions.
He tossed his sweatband to the sidelines in a resigned show of irritation at full time and sat on the bench for a while to gather his thoughts.
As the South Korea players celebrated in totally contrasting scenes of jubilation, Ozil and his Germany team-mates were left to wonder where their campaign went so drastically wrong.
Kim Young-gwon and Son Heung-min both scored late on with Low's side pouring forward in search of the goal to fire them into the last 16.
It was the earliest exit the Germans have endured for 80 years and Ozil was evidently as shocked as his irate fans.
Some Germany supporters have never warmed to Ozil or Ilkay Gundogan, two players of Turkish descent.
The duo stirred up controversy prior to the tournament in a plush London hotel by posing for photos with Turkish President Tayyip Erdogan, a leader widely deemed to have a disregard for human rights.
They have since been warned by the German football federation and booed in the international shirt which might explain why a pocket of seething fans directed their rage at Ozil in particular.
Without a doubt, Ozil and Gundogan's pre-tournament PR own goal cast a shadow over their preparations, having sparked a debate over dual citizenship and national identity in Germany.
Before the tournament Low admitted: 'Both have suffered. Both have been affected. Ilkay was very down after getting whistled. We had to pick him up.
'It's not a topic inside the dressing room. They are both valued and respected because they've stood up and lived our values, and love playing for Germany.'
Ozil's clash with supporters is only likely to heighten existing tensions on a day that has shaken German football to its core.