Fears for the health of Argentina's legendary No 10 Diego Maradona have eased after he had appeared to collapse into a chair after a night of bizarre behaviour while watching the national team's qualification for the round of 16.
The 57-year-old was seen being helped from his seat in the stadium before collapsing into a chair. He was immediately attended to by Russian paramedics but despite reports that he had been taken to hospital, Maradona left the stadium himself. Low blood pressure is thought to have caused the momentary scare.
A night of bizarre behaviour from the man who led Argentina to the 1986 World Cup – a feat they have not repeated since – began with him grabbing a woman to dance with in the executive seats before the game. He seemed to be out of control when Messi's opening goal went in.
Maradona looked increasingly the worse for wear each time the camera panned to him, swearing and giving insulting hand gestures.
Video then emerged on social media after the game of Maradona appearing to need help back into VIP area, looking unsteady on his feet, and a picture showed him being treated by two members of medical staff.
According to Argentine newspaper La Nacion, Maradona was treated for a 'few minutes', but was then able to leave the stadium normally.
The near 30-second clip showed the former Napoli striker being carried into his own personal box, appearing to be on the verge of collapse.
Another video appeared in which Maradona appeared unwell as he watched the game, before turning to the camera and giving a woozy grin and thumbs up.
According to Argentinian broadcaster TyC Sports, paramedics were called to take his blood pressure. A picture showed two medics tending to the former footballer in the VIP area at the St Petersburg Stadium.
However he was given the all clear, and just after 1am Colombian journalist Patricia Villegas posted a picture to Twitter of Maradona preparing to fly back to Moscow.
Maradona had stolen the show during Argentina's 2-1 victory on Tuesday evening, Marcos Rojo scoring a late winner, but for all the wrong reasons.
He leaned over the glass barrier in his VIP box to goad supporters below swearing at them and screaming as he was hugged by those in his area.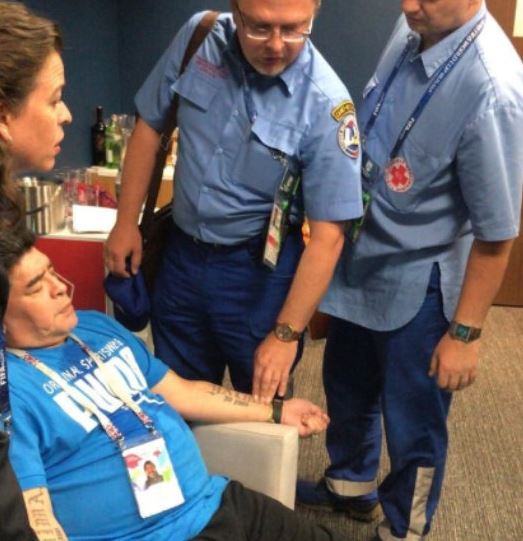 Maradona also appeared overcome with emotion after Messi found the net in the first half, with the goal prompting the 57-year-old to thank God.
The occasion all seemed to be a bit too much for him at one stage as he appeared to fall asleep.
Prior to the game Maradona was surrounded by many Argentina fans and took the time to interact with them and pose for pictures.
He appeared to be enjoying the attention he received and held up a flag of himself handed to him from the crowd below.
Twice banned for drugs offences during his career as a player, Maradona also had a spell as coach of the national team, but his reputation is likely to suffer further after this latest episode.