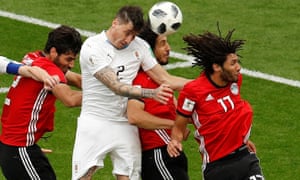 Mohamed Salah was left on the bench as Pharaohs conceded in the 89th minute to lose 1-0 to Uruguay in Group A match, gaining three points and dampening Egypt's dreams of going through the group stage at the 2018 FIFA World Cup.
It took nearly 90 minutes, but Uruguay finally got a goal and defeated a stubborn Egypt team, 1-0, in Ekaterinburg on Friday. A header off a free kick by defender Jose Maria Giminez was the difference after Uruguay's bigger stars, Edinson Cavani and Luis Suarez, squandered several chances.
Carlos Sanchez delivers a freekick from the right and Jose Maria Gimenez rises like Mark Wright to nod the ball into the net from seven yards.
Egypt will be grievously disappointed but, it definitely hurts to lose off such a late goal.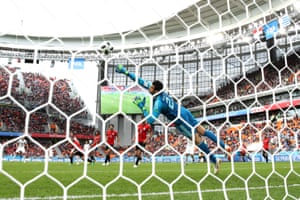 Almost as soon as the goal went in the rather ungallant cameraman panned straight to Salah, who suddenly wasn't smiling. Cuper must be wondering now whether he should have chucked him on, after all. You can be sure many millions of Egyptians are.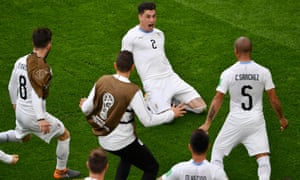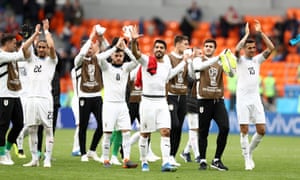 The Pharaohs have never tasted victory since their debut appearance in 1934. With Salah back, showed enough to suggest they can still get out of a low-quality group.
Meanwhile Uruguay still unbeaten by Africans.