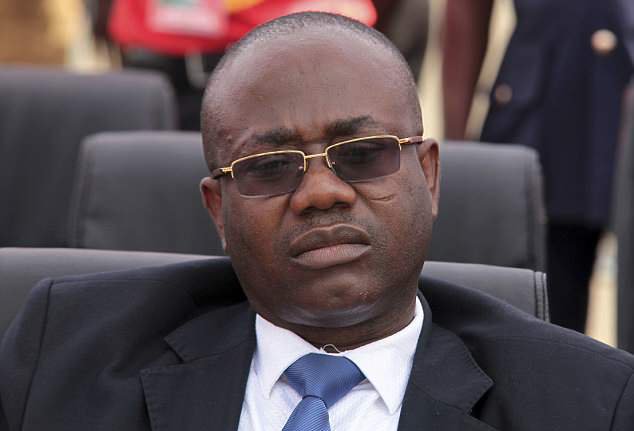 FIFA's ethics committee has provisionally suspended Ghana Football Association president Kwesi Nyantakyi for 90 days after he filmed by an undercover reporter taking an alleged bribe.
The timing could not be worse for football's governing body as it prepares for next week's FIFA Congress and the World Cup, which starts in Moscow on Thursday.
Nyantakyi, who is also a vice-president of the African Football Confederation and a member of FIFA's Council, was among dozens of officials and referees allegedly caught taking 'cash gifts' in a documentary by Ghanaian investigative reporter Anas Aremeyaw Anas.
FIFA said: 'The chairperson of the adjudicatory chamber of the ethics committee has provisionally banned the president of the Ghana Football Association (GFA) and FIFA Council member, Mr Kwesi Nyantakyi, for a duration of 90 days.
'The duration of the ban may be extended for an additional period not exceeding 45 days. During this time, Mr Nyantakyi is banned from all football activities at both national and international level (administrative, sports or any other). The ban comes into force immediately.'
The local response to Anas' film, titled 'When Greed and Corruption Become the Norm', has been dramatic, with the Ghanaian government 'dissolving' the country's FA for what its information minister described as the 'widespread nature of the apparent rot'.
This move could also have significant ramifications for Ghanaian football, as FIFA bans government interference in sporting affairs and has suspended several FAs for this over the years.
Nyantakyi's suspension poses the more immediate problem of whether Ghana can vote at Wednesday's congress when several key decisions will be made, most notably who hosts the 2026 World Cup.
Ghana had been expected to vote for its African neighbour Morocco in what has become a very close race with a joint north American bid from Canada, Mexico and the United States.