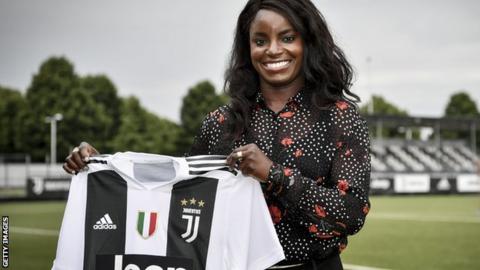 Former Chelsea forward Eniola Aluko has signed for Italian champions Juventus.
The 31-year-old England international signed off from the London club with a second Women's Super League title, where she also won two FA Cups.
Juventus won their first Serie A title in the 2017-18 season.
Aluko has scored 33 goals in 102 England appearances but has not played for her country since 2016.
She was involved in a discrimination case against former England manager Mark Sampson last year, with the Football Association apologising in October for racially discriminatory remarks made by the Welshman to Aluko in 2014.
Sampson was sacked in September for "inappropriate and unacceptable" behaviour with female players in a previous role, with former Manchester United and Everton defender Phil Neville taking over in January.