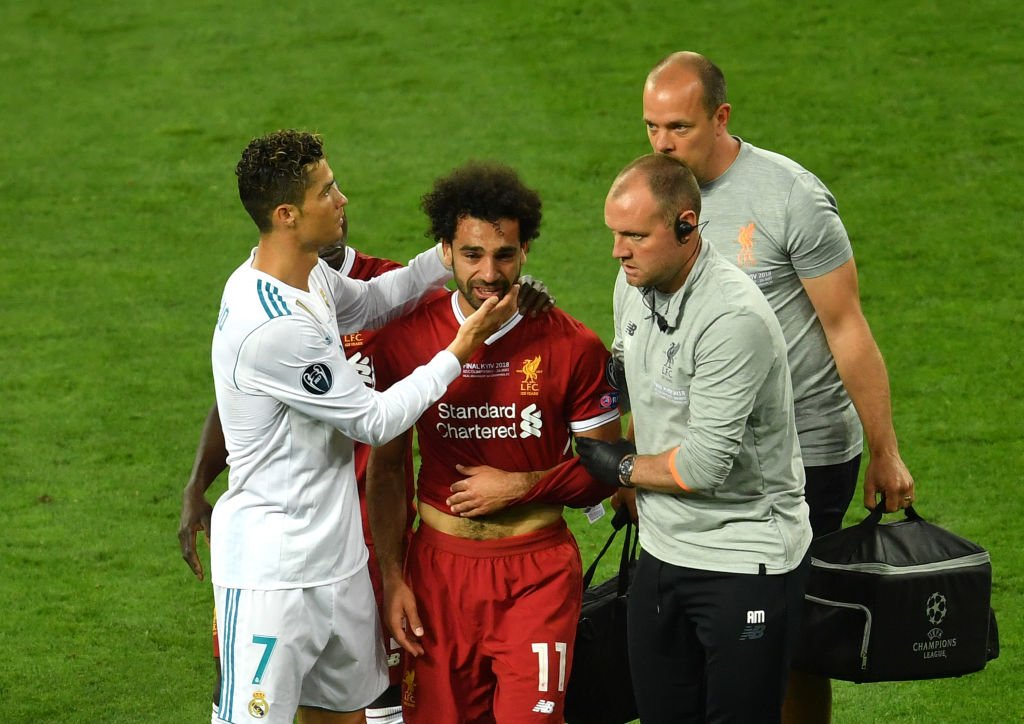 Mohamed Salah's dream of playing at the World Cup is in the balance after he suffered a serious shoulder injury in Liverpool's Champions League final defeat.
Salah left the field after 30 minutes, with the score 0-0 and Liverpool the better side, when he had been wrestled to the floor by Sergio Ramos. It looked to be a cynical piece of play that had calamitous consequences.
The PFA Player of the Year left the Olimpiyskiy Stadium with his left shoulder in a sling and the upset that was on his face suggested he knew his ambitions to lead Egypt in Russia were in tatters. He was due to go to hospital in Kiev for an x-ray.
Jurgen Klopp, Liverpool's manager, said: 'It was a big moment in the game. I know if you say something like that after you've lost, you sound like a bad loser. But for me that was kind of a harsh challenge because the arm is there and it was like wrestling a little bit.
'It was unlucky that Mo fell on his shoulder. It is a really serious injury – that's worse. The shock of the boys was obvious, we dropped a little bit too deep. Real tried to use that positive momentum until we settled a little bit.
'At half-time we could change a few things and defend half-spaces better like we had done before. The other decisive moments were the goals. They were quite strange but that's how it is. We know the result, 3-1 Real Madrid, and that's why we are not in the best mood.'
It is impossible to quantify Salah's importance to Egypt and their desperation to have him in their ranks was encapsulated by a tweet they published late on Saturday night, which came from the Egypt national team's account.
The tweet read: 'Dr. Mohamed Abou El-Ela, the doctor of the team, said that the Liverpool medical team had informed him after the radiation on the shoulder of Salah and that the result was that the player was injured in the ligaments of the shoulder joint.'
He added that according to this diagnosis 'he is optimistic that Salah will hit the national team at the World Cup.'
Ramos also weighed in after the match, tweeting: 'Sometimes football shows you it's good side and other times the bad. Above all, we are fellow pros.'