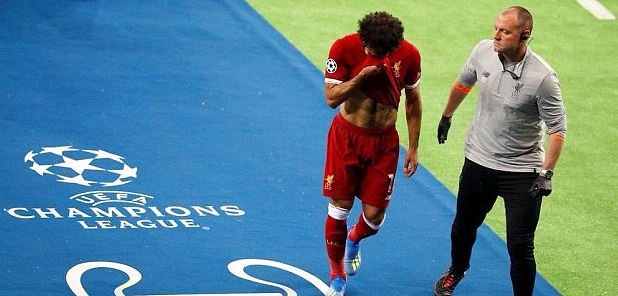 Mohamed Salah is confident of recovering in time for the World Cup after leaving the pitch in tears due to a shoulder injury sustained in the Champions League final. 
The Liverpool forward tweeted for the first time since his heartache in Kiev.
He wrote: 'It was a very tough night, but I'm a fighter. Despite the odds, I'm confident that I'll be in Russia to make you all proud.
'Your love and support will give me the strength I need.'
Salah was involved in an ugly tangle with Sergio Ramos and landed awkwardly on his left shoulder.
Many fans raged, with some claiming the defender deliberately hurt Liverpool's talisman.
Without their star striker the Reds slumped to a 3-1 defeat, largely due to two catastrophic goalkeeping errors from Lloris Karius.
It wasn't just Liverpool fans heartbroken by Salah's injury as Egyptian supporters were devastated by what appeared to be a savage blow to their World Cup ambitions.
But having first feared the worst, the Egyptian national team remain 'optimistic' that Salah will be fit to play in the World Cup this summer despite leaving the Champions League final in tears.
'The elected team doctor Dr Mohammed Abu Alaa has been told by Liverpool's medical team following an X-Ray that Salah has a sprained shoulder joint and had his shoulders wrapped,' a post on Twitter read.
'The Dr is optimistic of Salah's chances of joining the national team for the World Cup.'