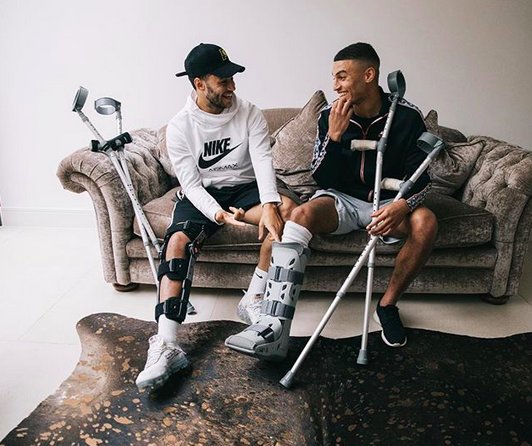 Liverpool midfielder Alex Oxlade-Chamberlain and his brother Christian who plays for Portsmouth are suffering long term injuries.
Alex Oxlade-Chamberlain has been ruled out of both the Champions League final and the World Cup after suffering a knee ligament injury in Liverpool's semi-final first leg win over Roma.
Christian meanwhile suffered a freak training ground injury in April, when an awkward fall left him with a broken leg and on the sidelines for three months.
The two seem to be trying to make the best of it, with Alex posting a light-hearted message to Instagram featuring him and his brother.
The image shows Alex and Christian sat side by side on the sofa with their crutches, comparing their different varieties of leg brace.
Alex captioned the picture: 'When you're negotiating who's turn it is to crutch over to grab the remote!
'It's not a good time for the Oxlade-Chamberlain brothers right now, but we're keeping the vibes positive!'
Alex will be cheering his Liverpool team mates on come Saturday when they face Real Madrid in the Champions League final.
He will then be watching when England begin their World Cup adventure in Russia against Tunisia on June 18.