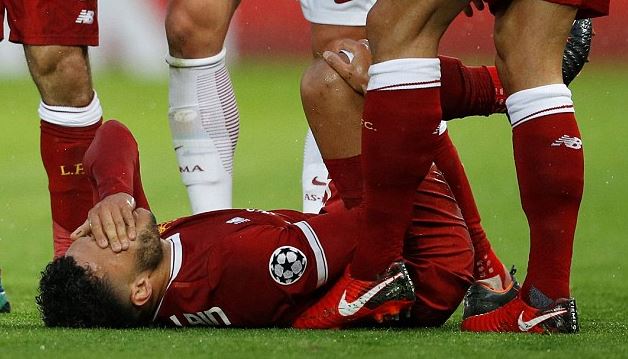 Alex Oxlade-Chamberlain will miss another World Cup after his season was ended by a serious knee injury.
The Liverpool midfielder feared the worst on Tuesday night when he was taken off on a stretcher during the first half of his side's 5-2 win over Roma in the Champions League semi-final but had to wait until Wednesday to undergo a scan.
Oxlade-Chamberlain, who has become such a big figure for Liverpool in recent weeks, has suffered significant damage to his knee ligaments and is looking at a rehabilitation period of months rather than weeks.
It is a devastating blow for the player who was in line to be an important squad member for Gareth Southgate and for Liverpool manager Jurgen Klopp, who admitted that the first-leg thrashing of Roma had been tempered by concerns for Oxlade-Chamberlain.
He was at Melwood on Tuesday to be assessed by Liverpool's medical staff and has spoken on the phone to Southgate, who will share the same despondency as Klopp over the fate that has befallen the 24-year-old.
This is the third time that Oxlade-Chamberlain has been gravely injured on the eve of a major tournament. He was forced to miss the 2014 World Cup in Brazil after damaging medial ligaments in a friendly against Ecuador and was then ruled out of Euro 2016 with an ankle issue.
Oxlade-Chamberlain later expressed his devastation at suffering the injury but was keen to provide some context, referencing the Liverpool supporter who was left fighting for his life after being attacked by Roma supporters.
'Absolutely devastated to have picked up this injury at such a crucial time in the season,' Oxlade-Chamberlain wrote in a message on Instagram, accompanied by an image of him being carried off the Anfield pitch.
'Gutted I won't be able to play any further part now in our Champions League run for Liverpool, and also the World Cup with England. But now it's all about supporting the boys and getting behind them.
'I know we have what it takes to do something special in this tournament. I'm going to give everything I have to make sure I'm back as quickly as possible.
'However, this all pales in comparison to how the family of the liverpool fan badly hurt before last nights game must be feeling. My thoughts are with him and his loved ones. Thank you for all your kind words, messages and support. I'll see you soon.'
Liverpool have been hit in recent weeks by a number of injuries to key players. Emre Can is unlikely to play again this season due to a back problem while Adam Lallana is fighting to overcome a serious hamstring issue. He could return to training next week but is some way off being fit to play in a game.