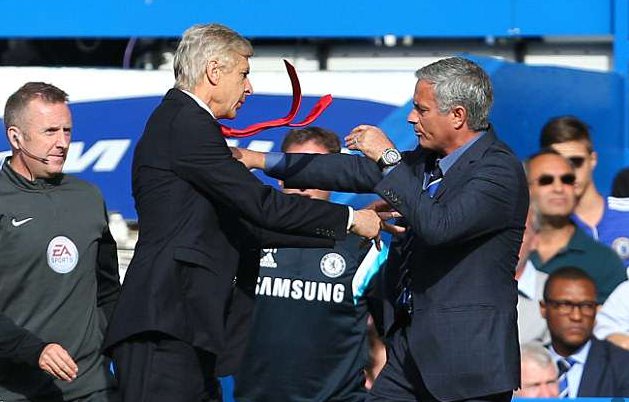 Jose Mourinho says he has no regrets over his many run-ins with Arsene Wenger and believes nobody should ever forget the Frenchman's contribution to world football.
Manchester United manager Mourinho has been one of the outgoing Arsenal boss's keenest adversaries over the years with the rivalry often boiling over in ugly verbal exchanges.
But on Friday, Mourinho greeted news of Wenger's impending departure from Arsenal by saying: 'It's not about regretting.
'I think your question is a typical question from somebody that was not a manager or a player.
'Of course you don't know the way we respect each other even when sometimes it doesn't look like we do.
'For example, players that get yellow cards and red cards by aggressive actions against each other and say bad words during the career are the ones that respect each other more.
'It's the same with managers. It's power against power and ambition against ambition and quality against quality.
'But in the end it's people from the same business and we respect each other's careers.
'So it happened. But what matters for me is the way I respect the person, the professional, the career and I always say that for some the memories short but for us football people, the real football people, who are the ones inside the four lines, playing, or the managers, or the referees, the others live off us. The football person doesn't have a short memory.
'I know what it means. Three Premier League titles and seven FA Cups, what he did in Japan and France, what he brought to French football and what he gave to Arsenal in the period without Premier League titles, the transition from stadium to stadium, we know what he did.
'If he's happy with the decision, I'm really happy. If he is sad, I am sad. I always wish the best for my opponents. I always wish the best. I hope he doesn't retire from football.'
Pep Guardiola, the boss of new Premier League champions Manchester City, said about Wenger: 'He is a huge personality. The Premier League is the Premier League because of what he has done and his vision. I wish him all the best for the future.
'Hopefully he will be involved in a different way in world football. Of course it was a pleasure at Barcelona, Bayern Munich and here to compete against him.'
Chelsea boss Antonio Conte added: 'He's been there for 22 years and that's a fantastic story. He won a lot at this club.
'Arsene is one of the managers who has had great influence in football. In every moment he tried to play good and creative and offensive football. This is also a great achievement.
'He deserves great respect, not only from Arsenal fans but also from the whole world of football. We are talking about one of the best managers in the world.
'It will be very difficult to see in the future another manager staying at the same club for such a long time.'