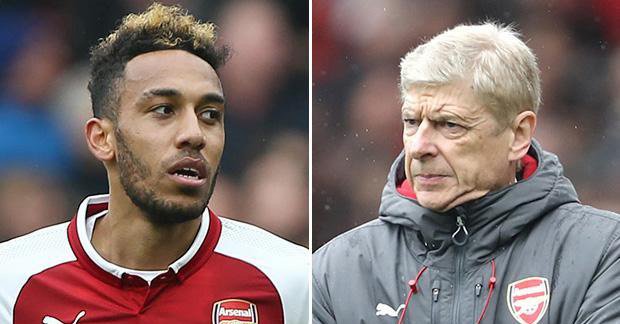 Arsenal striker Pierre-Emerick Aubameyang has slammed the criticism of Arsene Wenger, insisting the Gunners have improved in recent weeks.
With the North London club poised to finish outside the top four for the second successive season, a number of fans have called for the Frenchman to leave.
But after Arsenal racked up their sixth consecutive win in all competitions on Sunday, Aubameyang hopes supporters have seen an improvement in the team.
When asked by Sky Sports whether Wenger deserves the criticism he receives, he said: "It's a difficult question. Sometimes I think it's a bit unfair.
"We're playing better in these last games and I hope the people can see this."
The 28-year-old has made a record-breaking start for the FA Cup holders since joining from Borussia Dortmund for £56million in January.
No Arsenal player has been directly involved in more goals in their opening seven Premier League games, with Aubameyang netting six times and chalking up one assist.
And after scoring in his fourth straight match in the 3-2 win against Southampton, the Gabon international has declared he hopes to start alongside French forward Alexandre Lacazette.
He added: "I hope we will have the opportunity to play together – it's something I said when I first arrived that I hoped to play with him.
"We have different styles, but I think they're styles that complement each other – he's a very good player and a very kind person.