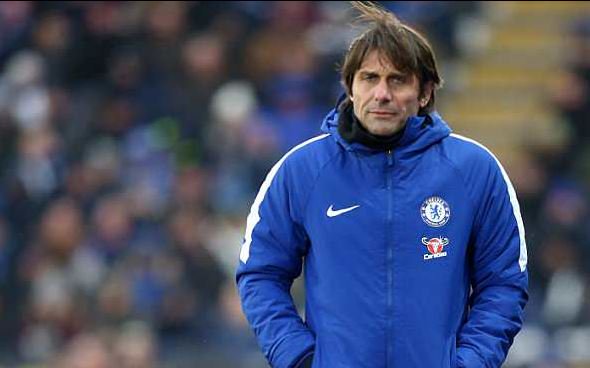 Antonio Conte has admitted for the first time that he has no idea whether he will be Chelsea manager next season — but says the uncertainty is a bigger problem for the club than for him.
Chelsea are at home to Tottenham on Sunday knowing that defeat will leave them eight points behind their London rivals and effectively out of the running for a top-four finish with seven games to go.
Chelsea are fifth in the Premier League with only three wins this year and crashed out of the Champions League after their 3-0 defeat in Barcelona recently. Although they can still win the FA Cup, failing to qualify for the Champions League would be a bitter blow for owner Roman Abramovich.
Asked if his future depends on finishing in the top four, Conte admitted: 'I don't know. I must be honest, I don't know.' But he added: 'This is not my problem. It's a problem for the club, not me.'
It is no secret that Conte's future is a hot topic of discussion but his fellow Italian Davide Zappacosta, signed by Conte, said that he wants the manager to stay.
Conte said: 'You know very well it is more simple for a player to know if in the future he can stay here. Our job is totally different. For us it is not sure. You can have a contract but you don't know what will happen after one game or one year. We depend a lot on the result.'
Conte's contract has just over a year to run and sacking him this summer would cost Abramovich about £9million. Already there is speculation that Chelsea are interested in Luis Enrique or Thomas Tuchel to replace Conte, who in turn is being linked with Paris Saint-Germain.
Conte still enjoys the backing of most of Chelsea's supporters, not least for the passion he shows on the touchline.
'I think passion is the most important thing in football for a coach and a player,' he said. 'If you don't have passion it is very difficult to reach something important in football.'
'When I was a player I showed in every moment my passion during the game, on and off the pitch. I wasn't a calm player. It is important for players to show that passion and enthusiasm during a game.'
Two years ago this fixture boiled over when Spurs blew a two-goal lead to draw 2-2, with 12 players booked, including a record nine from Spurs.
Since then, Chelsea have lost the experience of John Terry, Diego Costa and Branislav Ivanovic. 'To replace this type of player you need to have passion and then to improve the young players, their mentality and charisma, so we have new players ready to fight and win something important,' he added.
He cited Zappacosta and Emerson Palmieri as two young players with a lot to learn. 'Christiansen, is another, Bakayoko and Rudiger. We have a lot of young players that need to get experience and to improve, not only on the pitch, but in charisma and personality. You can do this only if you play important games.
'This is an important game because we know if we want to have a chance to play in the Champions League next season we need to win. We must be very focused."