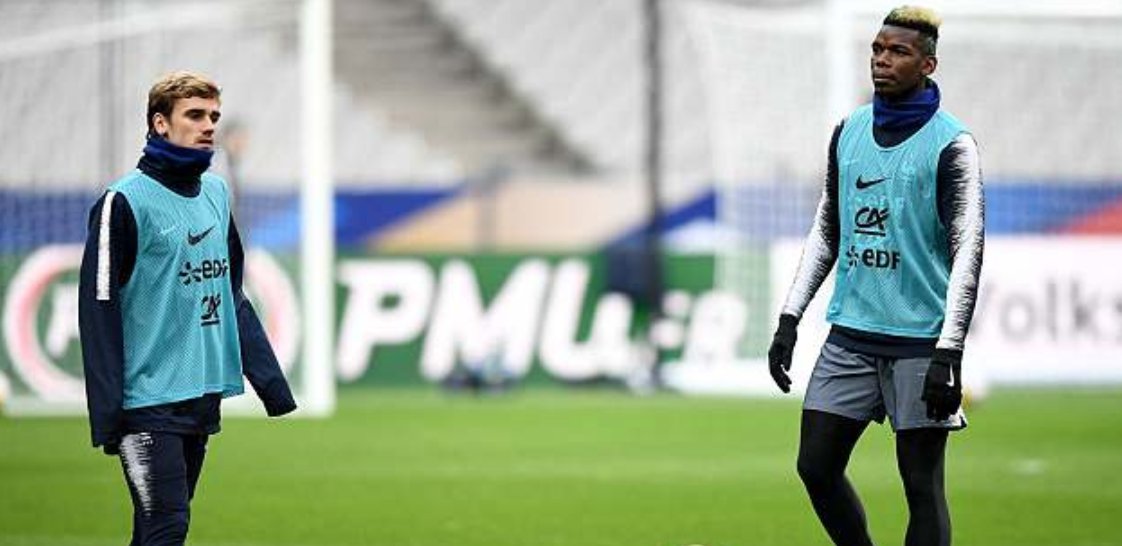 Former France star Christophe Dugarry has hit out at two of the country's current players by claiming that Antoine Griezmann and Paul Pogba are 'not serious'.
Dugarry's criticism came after the duo featured in a documentary which Canal+ aired on Sunday — just two days on from France's 3-2 defeat at the hands of Colombia.
It was the first episode in a series called 'Pogba Mondial: The Pogserie', which the Manchester United midfielder agreed to shoot as part of the build-up to this summer's World Cup in Russia.
Atletico Madrid striker Griezmann was a guest on Pogba's show and the pair interviewed each other.
Dugarry was not impressed and claimed the timing of the show suggested that Griezmann and Pogba were not fully committed to Les Bleus.
'They are not serious,' said Dugarry, who won the 1998 World Cup and Euro 2000 with France.
'Pogba and Griezmann are leaders. They are considered big players and they are held up as an example.
'And yet, when you lose, you sign a contract with Canal to sell these stupidities.'
Dugarry then continued to blast Pogba, who has found himself on the bench for his club recently.
He added: 'You are not starting for Manchester United, you just lost a game with the France national team. You send out this program that doesn't make sense.
'You have just lost. That tells us that you're not concentrating.'
France responded well to their poor result against Colombia by beating Russia 3-1 in St Petersburg on Tuesday, with Pogba getting on the scoresheet.