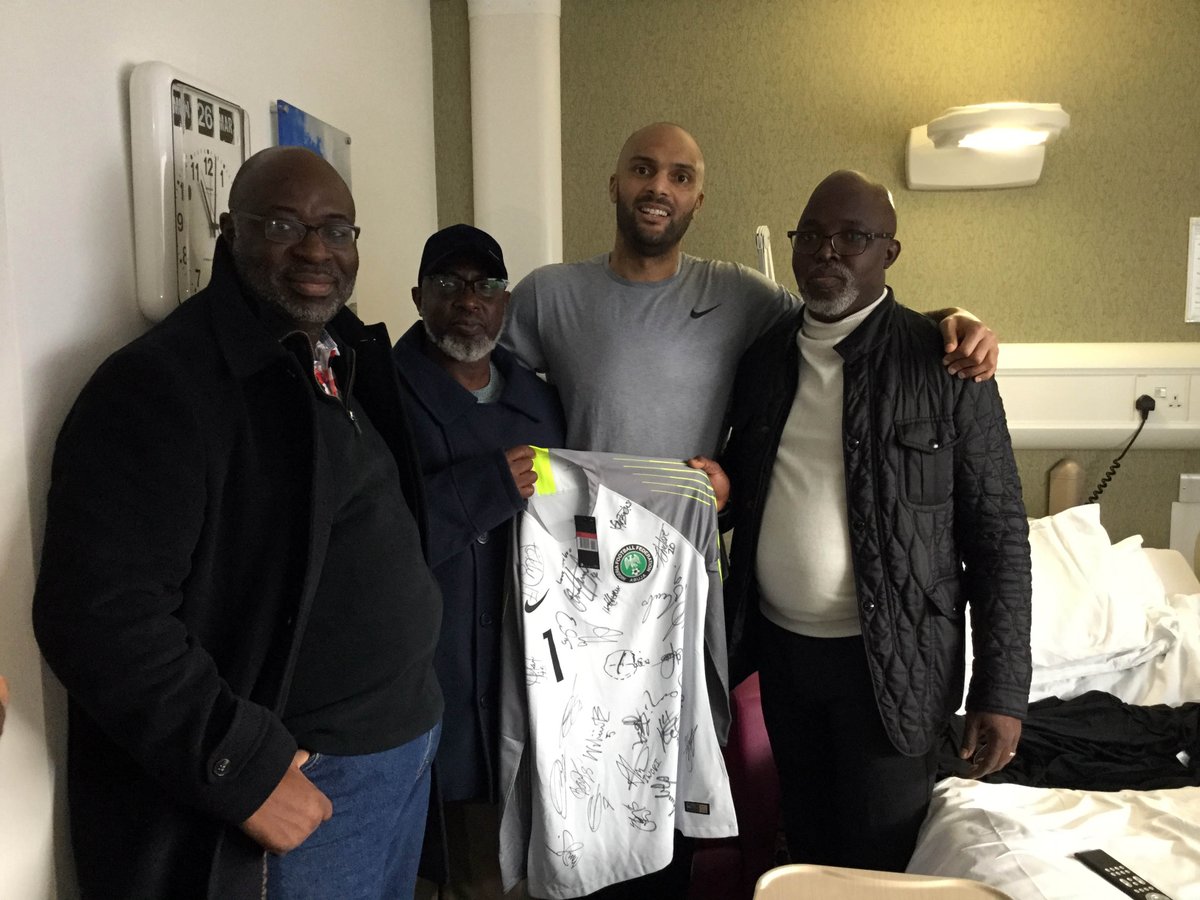 Top Nigeria Football Federation officials paid Carl Ikeme a visit at the Christie Clinic in Manchester where he is being treated for acute leukemia. 
The Super Eagles are heading to the FIFA World Cup finals in Russia this summer, but the leadership of the Nigeria Football Federation and the team itself have not forgotten one man who toiled for the squad in the early rounds of the qualifying campaign but is now sidelined by illness.
President of the NFF Mr. Amaju Melvin Pinnick led a delegation of NFF chieftains and team staff to visit the imposing goal –minder at The Christie Clinic in Manchester, where he is being treated.
Pinnick revealed a special plan for Ikeme at the England vs Nigeria match and also assured the goalie that he would also received his full cash rewards for Nigeria's qualification for the World Cup in Russia.
"We have come on behalf of the Government of Nigeria and the NFF to check up on you, find out how your recovery is going and to tell you that you are still very much on our minds and a member of the Super Eagles of Nigeria, Pinnick told thenff.com.
"We have also come to seek your permission to be our special guest at the pre- World Cup friendly game against England at the Wembley Stadium on 2nd June. We want you to perform the customary kick-off of that game and if you approve of it, we will immediately request this of The Football Association."
"as we all remember the role you played in helping us get off to a winning start in the final phase of qualifiers in Ndola against Zambia.
"We believe this is just a phase that will pass away. You will come out of it stronger and still be able to do what you love to do the best, both for your club and the Super Eagles of Nigeria."
In the delegation also were NFF 1st Vice President, Barrister Seyi Akinwunmi, General Secretary, Dr. Mohammed Sanusi, Super Eagles' Team Administrator, Dayo Enebi, Eagles' goalkeepers' trainer Alloy Agu and team media officer, Toyin Ibitoye.
Team Administrator, Dayo Enebi, said: "On behalf of the team, we want to reassure you of our love. The entire team would have been here to see you if we were not playing against Serbia. Coach Gernot Rohr, the technical and backroom staff are all praying for your speedy recovery. The team asked that I present this autographed jersey, signed by all the players, to you. It is our new kit for the World Cup."
Ikeme's immediate boss in the Super Eagles, Alloy Agu, had this to say: "As your goalkeeper coach in the national team, I know you are a fighter, you never give up. I believe these attributes will see you through. We will always be there for you as you recover from this illness."
Carl Ikeme became the Super Eagles' number one man between the pipes months before the Russia 2018 FIFA World Cup preliminary fixture against Swaziland and the first match of the group phase against Zambia in Ndola. He kept goal in those three matches. But nine months ago, he was diagnosed with acute leukemia after returning "abnormal blood tests" during pre-season testing at English club Wolverhampton Wanderers and had to undergo chemotherapy.