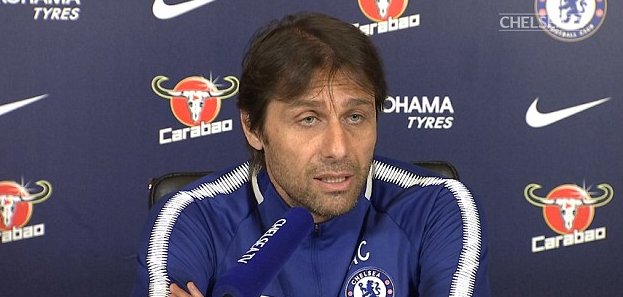 Antonio Conte says Chelsea need to aim higher in order to avoid being left behind by Pep Guardiola's rampant Manchester City side. 
Chelsea, last year's league champions, are 22 points off leaders City this season and are down in fifth place, facing a fight to qualify for the Champions League.
Asked whether the top four was now the limit of Chelsea's ambitions for the forthcoming seasons, should City continue to dominate, Conte said it was up to the club as a whole to be ambitious.
Speaking at his pre-match press conference, Conte said: 'It is not a question for me about ambition, the club has to show ambition. The coach works every day very hard, but the club has to show ambition.'
Conte has previously expressed his frustration with Chelsea's transfer dealings, with the club spending much less than City in the last two windows.
While admitting he admires Guardiola's work in Manchester, Conte could not resist a slight dig at the vast resources the Spaniard has available to him.
Conte said of City: 'We must have great admiration for them, because they are having a fantastic season, it is very difficult to find a weakness in this team.
'When you work very well and there is great feeling, then you can work the way you want to improve your team. Also City have chance to spend a lot of money, and when you link a good manager and that much money, this is the final result.'
Chelsea travel to the Etihad Stadium to take on a City side buoyant after back to back 3-0 victories over Arsenal, one of them in the Carabao Cup final.
Ross Barkley could return for Chelsea after injury, with Conte saying the midfielder could be in line for a place on the bench.
He said: 'In this week, he trained with us, and, yes, now he has recovered from his injury and he will come with us for City, then I will decide if I can find a place for him on the bench.'