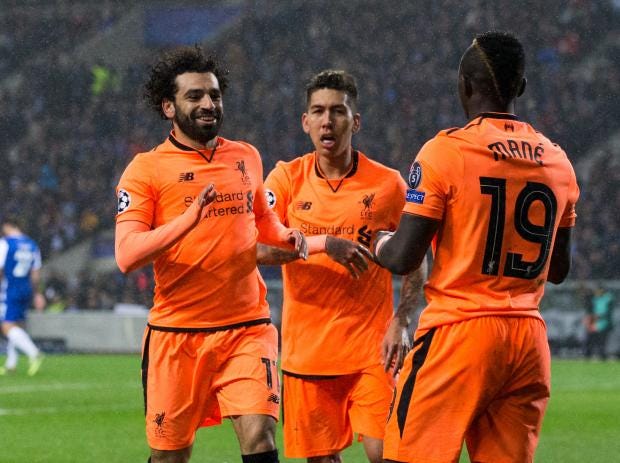 Sadio Mane has said he believes Liverpool are more than good enough to secure a second-placed finish in the Premier League.
Saturday's 4-1 win over West Ham United at Anfield pushed Liverpool up to second until Manchester United's win the following day dropped them back to third.
With 10 leagues games remaining, Mane admits leaders Manchester City are out of sight but said finishing as runners-up was an achievable aim.
"Of course we can stay there," the Senegal international, who scored his 13th goal of the season, told reporters. "We have got a great team. This is football and anything can happen.
"We have a goal to speak about and, as a team, we are going to do our best. We will try to win — and why can't we win all the remaining games?
"Second is one of our targets. Honestly, Manchester City are too far ahead and it will be difficult to catch them, but it is still possible to be second and we are going to do our best to get it."
Liverpool are all but in the quarterfinals of the Champions League after a 5-0 win at Porto in the first leg of their round-of-16 tie and, asked whether they could win it, Mane said: "We are going to try to do our best."
Meanwhile, Trent Alexander-Arnold has saluted the unselfishness of the "underrated" Roberto Firmino, believing he helps the team by contributing more than a traditional No. 9 would.
Firmino's goal took his season's tally to 22 in all competitions, and manager Jurgen Klopp recently said he had to pull him out of a training session in Marbella, Spain, last week and force him to rest.
"It's just his hunger," Alexander-Arnold said of the 26-year-old. "He wants to win, he's a born winner. I think that's very important if you want to make it in this game.
"He's a very, very, very special player. I think he's definitely underrated. I think he links the whole team together; he links the front three especially. He always plays a part.
"If you watch him closely, his drive and enthusiasm to get back and defend as a No. 9 is incredible. Most of the time you see him on the halfway line, tracking back and making tackles.
"You don't really see that from an all-round No. 9. It just shows his hunger to win. I think that's a big part of this.
"That's not just all he offers. It's his defensive duties that he's more than willing to do. Sometimes he overdoes it, but in a good way. I suppose he doesn't have to do it, but he's willing to do it for the team."
Alexander-Arnold has started Liverpool's last four games but said he will welcome the increased competition for the right-back spot resulting from Nathaniel Clyne's return.
Clyne is back in full training after missing all of the season until now due to a back injury, and Alexander-Arnold said: "I think healthy competition within each club is really good for each player, because knowing that you've got to perform every week is something that's in your head when you go out there.
"You know that someone else wants your space and I think it just gives you that bit more motivation to go out there and perform."