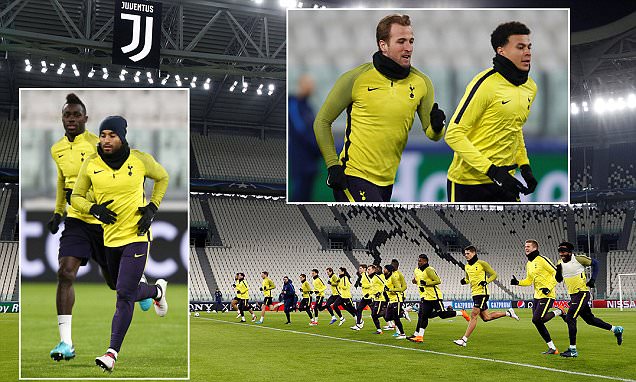 Tottenham manager Mauricio Pochettino put final preparations in place with his squad ahead of Tuesday's Champions League clash with Juventus as they trained at the stunning Allianz Stadium in Turin.
Harry Kane and Dele Alli were among the star names getting ready for the first leg of Tottenham's round of 16 clash against the Serie A champions while Lucas Moura prepared to make his European bow for his new club.
The likes of Christian Eriksen and Son Heung-min looked in fine spirits following a vital and morale-boosting win over north London rivals Arsenal last weekend, and they will be looking to take their season to the next level with a win in Italy.
Tottenham will have to overcome the odds to beat last year's finalists, but they will be getting an insight into their opponents through striker Fernando Llorente, who played for Juventus until 2015 and was on the field for their Champions League final defeat to Barcelona.
The Spanish striker, who is likely to start on the bench behind Harry Kane, relived his experience of playing in that final, which they lost 3-1, and says he is looking forward to returning to his old hunting ground.
'It was an unbelievable journey,' he told Tottenham's official website. 'We arrived at the final of the Champions League after beating Real Madrid in the semi-finals. The final was close and at one moment we were 1-1 with possibilities to score.
'It was difficult because Barcelona at that moment with Lionel Messi, Neymar and Luis Suarez were an amazing team. We couldn't finish with the victory but it was still a good moment for us.
'Juventus are one of the biggest clubs in the world and to play there was amazing. I lived there, I experienced amazing moments, amazing memories and now I'm very happy to have the chance to go back to Turin.
'I still have a lot of friends there and it will be good to see them.'