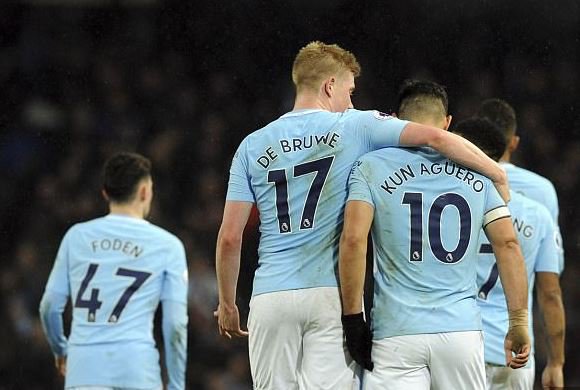 Sergio Aguero has praised his Manchester City team-mate Kevin De Bruyne after the Belgian set up three goals in the Premier League leaders' 5-1 thrashing of Leicester City.
The Argentine striker scored four of their goals as City extended their advantage at the top of the Premier League to 16 points, but De Bruyne was equally the star of the show.
Aguero said City are very lucky to have De Bruyne in their ranks and suggested he would grace any team in the world.
'Luckily, Kevin de Bruyne is playing for us, helping us to score,' he told CityTV.
'I'm very happy because most of the goals come from his assists and I just have to hit the ball and obviously I'm very happy for him as well.
'He is a great player and every team in the world would love to have him.'
De Bruyne now has 14 assists in the Premier League alone this season, while Aguero took his league goal tally to 21 in 22 matches in another swashbuckling performance by Pep Guardiola's side.
Aguero has now scored four or more goals in three Premier League matches – more than any other player in the history of the competition.
'I'm really happy personally because the goals are helping the team to win and obviously that's very important,' Aguero added.
'Hopefully we can keep doing the same way.'
City now turn their attention back to European competition with a visit to Basle in the last-16, first leg of the Champions League on Tuesday evening.
They then face cup action in two more competitions, with their fifth round visit to Wigan in the FA Cup and the Wembley final of the EFL Cup against Arsenal.