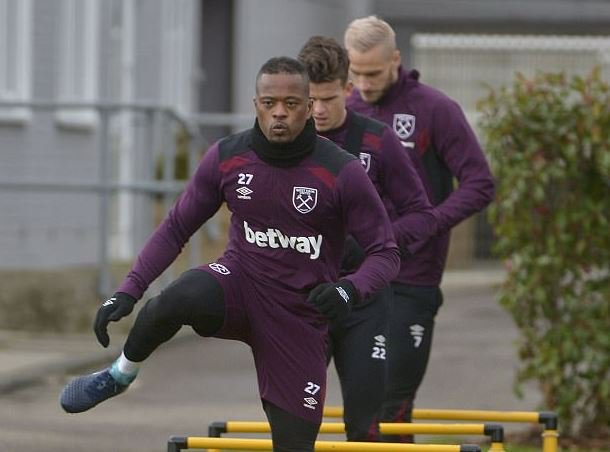 David Moyes has hailed the quality of new signing Patrice Evra and may hand him a West Ham debut on Saturday.
Evra, 36, joined West Ham this week after he was released by Marseille for kicking a fan during the warm-up of a Europa League game in November.
Moyes, who worked with Evra at Manchester United, signed the 81-cap France left back on a short-term contract on Wednesday and insists he has no concerns about his discipline.
'I never even thought about it,' said Moyes, when asked if he had doubts over Evra's volatility.
'He told me the story about it. He's a really good lad, great in the dressing room, and he wouldn't have done that if he wasn't severely provoked.
'He played for Juventus when they were a really good side.
'You saw him in the Euros playing for France and how important he was for that team. He's worked with Gianluigi Buffon, Leonardo Bonucci and can feed that back to our squad on what it looks like at the top.
'We lost Arthur Masuaku (to a six-game ban for spitting), so we were really short of cover down the left-hand side.'
Moyes began life at West Ham with a 2-0 loss to Watford but says he's noticed a significant improvement in his players ahead of Saturday's rematch.
'The team looked as if they needed something else,' he said. 'Some of them are really growing in confidence now.'